Welcome to Paoli and Center City FootCare Centers
COVID-19 Update!
Due to the recent COVID-19 concern, we want to assure everyone that our office will remain open. Please use extreme caution if coming in for a visit.

We are following all the appropriate guidelines regarding cleanliness and disinfection of our entire office and instruments. We do ask if you are ill to please cancel your appointment and follow your doctor's orders and please keep us updated of any diagnosis you have so we can protect our staff and other patients.
If you have traveled to a location (international or local) where cases of COVID-19 has a high risk of community transmission, please call us to determine if you should keep your appointment.
Thank you for understanding and we assure you we are doing everything we can to make sure our office is safe for all.
TELEMEDICINE VISITS NOW AVAILABLE
Our Podiatrist and staff of Paoli and Center City FootCare Centers would like to welcome you to our Web site. We invite you to call our Paoli podiatry office and Philadelphia podiatry office with questions and to schedule an appointment. We are conveniently located in the Rittenhouse Square neighborhood in Center City, Philadelphia, PA.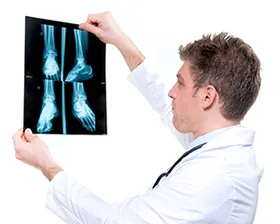 Our feet take a lot of abuse each day. This might be why around 75 percent of Americans will deal with a foot problem at some point in their lives. That's where a foot doctor comes in. A foot doctor, also commonly referred to as a podiatrist, helps diagnose, treat and manage problems of the foot, ankle, and leg.
What Podiatrists Treat
About one-quarter of all the bones in your body are in your feet. These means that if any of these bones are out of alignment, chances are pretty good that the rest of your body will be too. This can cause pain, numbness and other symptoms. Your podiatrist has the expertise and tools necessary to treat just about any issue. We offer a full range of podiatric services, to tackle everything from minor foot problems to more severe issues:
Ingrown toenails
Hammertoes
Arthritis
Sports-related injuries
Burns
Ulcers and sores
Warts
We work with everyone from children to the elderly to help improve foot health. Your podiatrist also performs surgeries and shockwave therapy to treat certain severe conditions that might not respond to traditional or more conservative treatments.
Visiting the Podiatrist
When you come into our office, we will perform a thorough exam and discuss the symptoms you are experiencing. We will also get all of your medical histories, including past foot and ankle injuries. We may also run X-rays, CT scans or an MRI to diagnose your condition. Then we will create a customized treatment plan to help reduce your symptoms and improve your overall foot health. From athletes to children with structural problems, we work with any condition and patient to give them the care they need to live a pain-free life.
Whether you are dealing with foot pain, diabetes, or you just want to prevent sports-related foot injuries, your foot doctor is able to handle all of your podiatric needs. Our goal is to educate each patient regarding their problem and begin a treatment program with the highest quality of care. Some of our services include:
Whatever your foot trouble, we'll work together to find the answers that will comfort you and bring you relief.
-- Robert K. Cohen, D.P.M., F.A.C.F.A.S. CWSP.